The PCX125 has been one of Ireland's favourite scooters for some time. The ever-popular PCX125 scooter has gotten a complete style upgrade for 2018, with natural new contours interspersed among the traditional PCX flowing design lines. It also receives a new tubular steel duplex cradle frame, new wheels and tyres and an upgraded rear suspension. Plus ABS, and an engine that produces more peak power while maintaining outstanding fuel efficiency.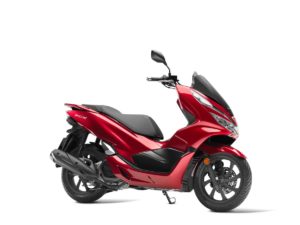 Features of the new model: 
New style blends natural curves into the PCX's flowing design
Strong visual identity from new LED headlight and position lights
New, smart, easy-to-read inverse LCD instrumentation
Brand new steel duplex frame design
Rear shock absorbers moved back, with upgraded springs and longer stroke
Lighter 8-spoke wheels replace the 5-spoke design
Larger tyres improve handling and fuel economy
Produces more peak power with no loss of bottom-end torque
New intake and exhaust design delivers the high-rpm gain
Fuel economy of 47.6km/l gives a 400km+ tank range
The new PCX125A is available in a variety of colours such as Pearl Cool White, Pearl Nightstar Black, Matt Carbonium Grey Metallic, Pearl Splendor Red and it is priced at €3,700.00.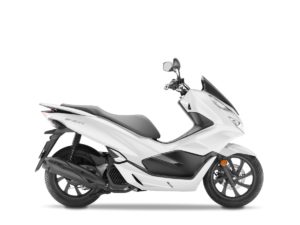 Click here to explore the new model
This stunning Scooter is now available from your local Honda Motorcycle Dealer. Not sure who your closest authorised Honda dealer is? Click here!