Honda ATV History
1970s – present
 Ever wonder where the ATV came from? Here is a brief summary of how Honda pioneered the concept:
1970s:
Honda first introduced the concept of the ATV in the 1970s when they produced the world's first ATC (all-terrain cycle) named the ATC90. The three-wheel vehicle sent it's 7 horsepower through a dual range four speed gearbox with automatic clutch. Honda expanded the range with a smaller ATC70 and then later in the decade updated the ATC90 into an ATC110. Though, it's primary use was a recreational vehicle through the 70's farmers were beginning to see the ATC as a tool to make their lives easier.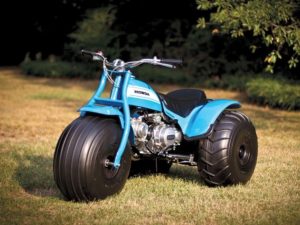 1980s:
Honda's first four-wheel ATV was brought to market in 1984. The TRX200 was powered by a durable single-cylinder four-stroke engine running through a five-speed dual-range transmission with shaft drive and reverse. The introduction and popularity of the four-wheel ATV brought an end to the ATC three-wheeler range. On the eve of the '90s, Honda introduced the 1988 FourTrax 300 and FourTrax 300 4×4, the revolutionary pair of hard-working Honda quads would ultimately become the most versatile, most popular ATVs in history. Combining an ideal balance of size, weight, power and capacity, powered by a 282cc air-cooled four-stroke single-cylinder engine, the FourTrax 300 sent its 20 horsepower through a five-speed transmission, automatic clutch and maintenance-free shaft drive. An ultra-low first gear helped it tow up to 850 pounds. Tough steel racks let it carry up to 66 pounds in front and 132 pounds in the rear.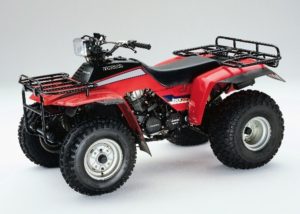 1990s:
Throughout the 1980s, more and more people saw the ATV as a vehicle capable of getting thousands of different jobs done faster and easier. By the time the '90s rolled in, the Honda FourTrax had become an essential part of peoples' work life and nothing on wheels had ever been as versatile, reliable, efficient and affordable, on the job or on the weekend, as the Honda ATV.
In Ireland, having a Honda quad makes a host of jobs more efficient. In countries without our infrastructure, manpower and financial resources, the Honda ATV's reliability and efficiency handled jobs that simply couldn't be done before. Folks on other parts of the planet were discovering what Ireland had discovered, and began putting Honda ATVs to work, performing all manner of work that was either impossible, impractical or both. Whereas Honda ATVs were largely a domestic phenomenon before 1990, they were currently working in more than 35 different countries worldwide.
The 1995 Foreman 400 4×4 introduced the working world to the strongest, most efficient Honda ATV yet. Powered by an innovative longitudinal engine design that positions the crankshaft perpendicular to its axles, the '95 Foreman's front and rear drive shafts transfer power to all four wheels with fewer power-robbing directional changes, fewer parts, less weight and a lower center of mass.
In 1997 Honda introduced the advantages of its longitudinal power train to a broader circle of ATV users with the FourTrax Recon, a mid-size 2WD ATV that works hard and can scurry down a trail better than anything in its class.
In 1998 Honda debuted its Electric Shift Program (ESP) on an all-new 450cc ATV, the Foreman ES. Combining the convenience of an automatic with the control of a manual gearbox, ESP allowed Foreman ES riders to shift up or down with push-button ease. Honda's meticulous approach means the only thing harder than building the toughest ATVs on earth is improving them. Improving the single most popular ATV model, the FourTrax 300 series, was a truly difficult undertaking.
2000s
Honda further improved the range when bringing to market the powerful efficiency of the 329cc longitudinal-powered drive train in an all-new chassis creating a better version of what was arguably the most versatile multipurpose ATV ever created.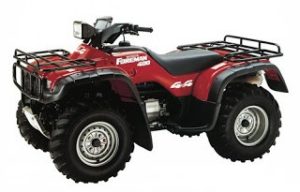 Present:
The present Honda ATV range offers a variety of ATVs to suit the needs of the Irish population. Honda TRX250 range will make light work of everyday tasks. The compact and agile TRX250 2wd is ideal for light and medium duty work and a great choice for yard, security or equestrian use. The TRX250 is available in both manual and electric shift. The Honda TRX420 ATV is a true all-rounder, a mid-size ATV with class leading power, performance and efficiency. With rugged next generation styling it offers exceptional pulling power, quick starts and great acceleration. Available in both manual and electric shift. The Honda TRX500 is a heavy-hitting ATV built for hard work and big loads – day in, day out. The TRX500 will work for you, with it's low-down torque to it's liquid cooled engine – It will help you tackle really rough terrain, as well as the big towing jobs. It's an ATV you can rely on. Choose various transmissions and options including independent rear suspension and power steering.
Honda Ireland currently have a special offer running on the ATV range, contact your local dealer to place an order while stocks last, 0% finance available.