Jorge Lorenzo ended an incredible 18-year Grand Prix career with an emotional Valencia race, helping the Repsol Honda Team to clinch the Triple Crown alongside another dominating Marquez win.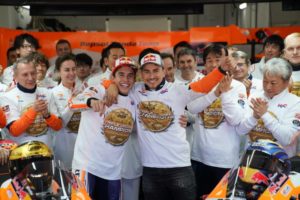 For the third year in succession the Repsol Honda Team celebrate the end of a MotoGP season with the Triple Crown after winning the Riders, Teams and Constructors Championships. The accomplishment completes an incredible year full of records and achievements as Honda celebrates their 60th anniversary of racing.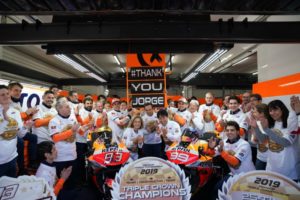 Marquez made quick work of the riders ahead of him as the lights went out on the final race of 2019, moving into second place on the third lap. With just Fabio Quartararo ahead of him, Marquez methodically cut the gap from almost a second to just two tenths in five laps. Striking at Turn 11, Marquez only needed one chance to move to the front and quickly amassed an insurmountable lead.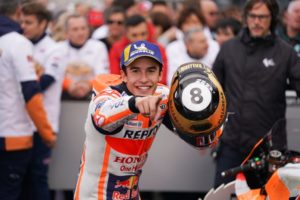 A 12th victory signs off Marquez's 2019 season in perfect style and matches the number of wins he achieved in his dominating 2014 season. Earning 420 points across the 19 races of 2019, Marquez becomes the first rider in history to score more than 400 points in a single season. With his 95th premier class podium, he draws level with Mick Doohan as the second most prolific Honda podium finisher in the premier class.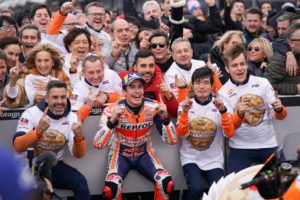 After 297 Grand Prix starts, Jorge Lorenzo's marked the end of his legendary MotoGP World Championship career with his best finish since returning from injury. The five-time World Champion bid a fond farewell to Grand Prix racing with a 13th place finish in front of an adoring Spanish crowd. With 68 wins, 152 podiums and 69 poles, Lorenzo bows out with some the most impressive stats to his name in Grand Prix history.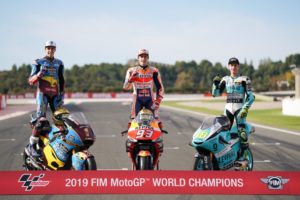 This is the Repsol Honda Team's ninth Triple Crown since the MotoGP class began in 2002, cementing them the most dominant team and constructor in the premier class. For the first time in the four-stroke era, the team has managed to take three Triple Crowns in a row.
Riders will be back out on track on Tuesday, November 19 at the Circuit Ricardo Tormo for the first test of 2020 before moving to Jerez a few days later.