Alert for all you Africa Twin fans! Today September 23rd 2019 Honda have announced details on the all new CRF1100L Africa Twin and Africa Twin Adventure Sports:
Honda's celebrated adventure machine gains wide-ranging performance and technology upgrades
New Euro5-compliant 1100cc parallel twin engine produces top power of 75kW and maximum torque of 105Nm – increases of 7% and 6% respectively
5kg lighter, with 10% improvement in power to weight ratio, thanks to weight reduction in areas including engine, frame and swing arm
All-new 6.5" TFT Multi-Information Display incorporates Apple CarPlay® and Bluetooth connectivity, with touchscreen functionality
Four pre-set riding modes – plus two user-selectable options – offer scenario-specific tailoring of Power, Engine Braking, Honda Selectable Torque Control, (HSTC), Wheelie Control and Cornering ABS settings
HSTC, plus new Cornering ABS, Wheelie Control and Rear Lift Control functions are now managed by a six-axis Inertial Measurement Unit; Cruise Control is standard fit
CRF1100L Africa Twin itself has even sharper off-road focus
CRF1100L Adventure Sports is more ready than ever for the long haul – and now available with cutting-edge Show EERA™ suspension as an option
Unique Dual Clutch Transmission still available on both models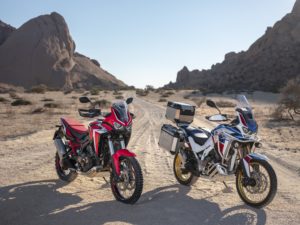 The Africa Twin has evolved. Lighter, more powerful and bristling with cutting edge technologies, both the Africa Twin itself and its 'Adventure Sports' sibling have been thoroughly updated – with even clearer distinct identities – to give riders the optimal equipment to tackle any True Adventure from an off-road trail to a continent-crossing marathon.
Frame and engine
Set to arrive in Europe within 2019, the Africa Twin will now be powered by a new Euro5-compliant 1084cc parallel twin engine (up from 998cc). Comprehensive revisions to the engine, including revised valve lift, aluminium cylinder sleeves and a new exhaust control valve, bring even stronger performance, while meeting the stringent new Euro5 regulations for 2020. Maximum power output increases by 7% to 75kW @ 7500rpm, with maximum torque up 6% to 105Nm @ 6250rpm, while the motor retains its silky-smooth power and torque delivery and distinctive 'throb'.
The power unit is held in a new frame with aluminium sub-frame – bolted rather than welded to the main frame. The all-new, lighter aluminium swingarm is based on the same design as the CRF450R moto-crosser, for even better rear wheel traction and rider feel.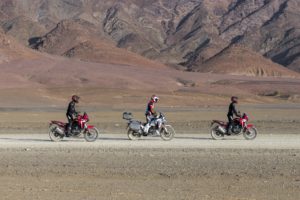 Electronics and instrument panel
A comprehensive electronics package managed by a new six-axis IMU includes Ride by Wire and Honda Selectable Torque Control (HSTC) plus new features including Cruise Control, Cornering ABS, Wheelie Control, Rear Lift Control and Emergency Stop Signals. Six riding modes are available: four have pre-set levels of power, engine braking and ABS characteristics for different riding scenarios: Tour, Urban, Gravel and Off-road; two User modes allow the rider to set their own preferred combinations of these parameters.
The CRF1100L Africa Twin comes equipped with a 6.5" TFT Multi Information Display touchscreen as standard. The level of information shown on the easy-to-use, sleek and slender unit can be customised to the rider's preference; information is displayed clearly and concisely, digestible at a glance at any time of day. The TFT touchscreen is also compatible with Apple Carplay®, allowing riders to get directions, make calls, receive messages, and listen to music via the applications on their phone.
CRF1100L Africa Twin
Further sharpening its genuine off-road capabilities, the new CRF1100L Africa Twin itself has been slimmed down even further, with new striking rally-style body work, slimmer fuel tank and 40mm narrower seat, adjustable between 850mm or 870mm.
The low screen allows the rider to move forward and backward freely, whether seated or standing up; compact handguards and sump guard complement the sharper look, while also contributing to the overall 4kg weight reduction. The 10% increase in power to weight ratio brings a new level of dynamic performance.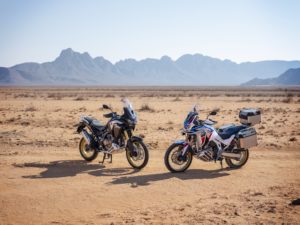 CRF1100L Africa Twin Adventure Sports
Now sharing the same riding triangle as the Africa Twin itself, the CRF1100L Africa Twin Adventure Sports is fully equipped for the long haul.
The larger 24.8L tank with range of over 500km, broader front fairing, five stage adjustable screen, standard-fit heated grips and ACC socket bring even greater comfort and practicality.
Further rider-focussed technology upgrades come in the shape of new three-stage cornering lights – which create a wider beam of light as the bike leans over – and the option of Showa Electronically Equipped Ride Adjustment (EERA) suspension.
Aligned to the four pre-set riding modes, and adjustable at will in the two User modes, the Showa EERA has three rear preload pre-sets, and utilises the six-axis IMU and balance-free valve technology in the front forks to provide the perfect suspension response no matter the terrain.
Dual Clutch Transmission
Honda has sold over 100,000 DCT-equipped motorcycles across Europe since the system – still unique in the motorcycle industry – first appeared as an option on the VFR1200F in 2009, and approximately half of Africa Twin customers choose it as an option.
The system has evolved consistently over the last decade. On the new Africa Twin's DCT, the system's 'cornering detect' function is operated through the IMU, allowing even more natural shift patterns when in automatic 'D' or 'S' mode.
Colours
The CRF1100L Africa Twin will be available in Grand Prix Red and Matte Ballistic Black Metallic, both of which include a striking new red sub-frame. The Adventure Sports version comes in Pearl Glare White Tricolour – reminiscent of the original classic XRV650 – and Darkness Black Metallic.
Over 87,000 Africa Twins have been sold worldwide since 2016. With this comprehensive round of upgrades – the development of which involved 21 new patent applications – Honda is aiming to attract thousands more customers to the myriad life-affirming experiences made possible by its 'True Adventure' flagship machine.
Honda Ireland expect the new Africa Twin to be available here in the next few months.