This August the early bird will catch the worm when it comes to saving money on the Honda quad range!
You can save up to €2000 across the full range of Honda quads this August…how?! By being the early bird!
Every year Honda offer you savings on our premium ATV range and this year is no different.
Honda Ireland are offering a discount structure across the entire range for three months, August, September and October. The highest discount is available until August 31st with €500 off 250cc quads, €1000 off 420cc quads and a whopping €2000 off 500cc quads.
To save the most, act now! Discounts will decrease in September and again in October.
For August prices are as follows:
250cc Range: From €6099.00
420cc Range: From €8299.00
500cc Range: From €9199.00
You can get a Honda quad from any authorised Honda dealer in the country, and we can even give you driving directions to your closest dealership.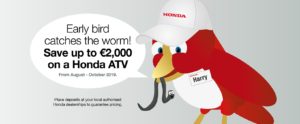 Honda Ireland have a range of premium quads from 250–500cc, 2WD & 4WD, options of manual, electric and automatic shift, towing capacities up to 600kg, options of independent rear suspension, power steering and much more.