Monster Energy Honda Team returns to the top of the leader board of the world's toughest rally. American Ricky Brabec battled back to overall leadership as the Dakar Rally arrived at its seventh stage, one day ahead of the Super-Ica which should prove to be the longest and most gruelling stage of the current edition.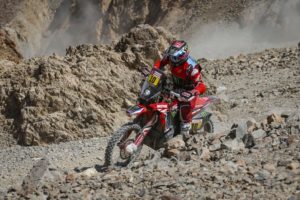 The two Honda CR450 RALLYs of Nacho Cornejo and Ricky Brabec made it onto today's virtual podium on day seven of the 2019 Dakar Rally. The Chilean narrowly missed out on the stage victory, while rampant Californian Brabec rode a storming ride back to the top. Kevin Benavides, second on Sunday, went in search of a good starting position from which to attack tomorrow.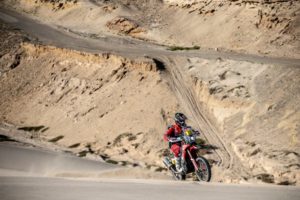 It was an arduous, tough day out in San Juan de Marcona. Competitors faced a torturous battlefield, as today's stage played out over the terrain already used in an earlier stage. The consequent passage of cars, SSV and trucks had left huge ruts and churned up sand. The stage featured 323 kilometres of special on a looping stage with departure and arrival in San Juan de Marcona.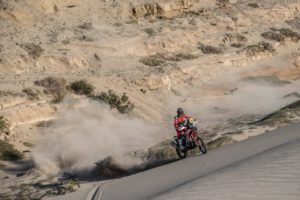 The best rider of the Monster Energy Honda Team bunch turned out to be Nacho Cornejo, who came within a whisker of clinching his first Dakar stage win. The Chilean set a cracking pace in the first part and had no difficulty in finding one of the more critical waypoints in the special whilst others doubted and which eventual led to the day's second quickest time. Nacho lies twelfth in the overall standings, just over an hour behind the leader.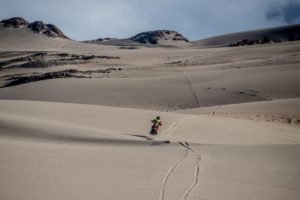 Third today was Ricky Brabec, although the American was more than happy to retake the overall lead. Brabec was comfortable over the terrain that included dunes and was fast enough to mark the third best time of the day some 6'30" off the stage winner. Ricky now holds a 7'47" advantage over the nearest second place rival Frenchman Van Beveren.
Kevin Benavides started the day behind Quintanilla and, after catching him up on the track, continued until he experienced some trouble finding an awkwar waypoint. The Argentine rider arrived amid the main group posting twelfth best time. The Argentine is sixth in the provisional rankings. The main concern for the Argentine rider had been the state of the terrain which had been destroyed with some stretches having been used three times. Expect more of the same tomorrow as ten cars and five trucks will have already started out by the time the bikers start the "Super-Ica".
The longest special of this rally will have a total of 361 kilometres against the clock out of a total of 576 km before reaching Pisco.
Source: HRC News