In spite it being Sunday, there was no rest for the Dakar yesterday. Far from it: Sunday witnessed the longest stage so far in the 2019 odyssey at 839 kilometres. The route took competitors from inland to the coast – from the cold and wet heights of Arequipa to warm and windy San Juan de Marcona.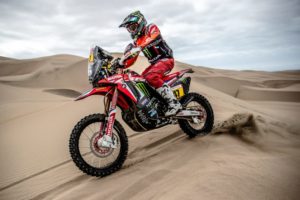 Riders rode the first 177 km-liaison section late yesterday evening which took the entourage to the impressive Tanaka dunes on the coast. Today the riders battled out an opening 84km-special, which was followed by an 18km neutralization section before the stage's main trek – a tough 232km special which returned the bikers back to the bivouac in San Juan de Marcona.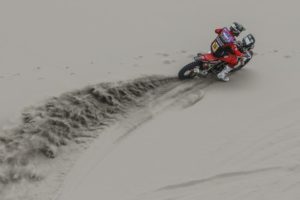 Kevin Benavides fought nail and tooth for the stage win and nearly pulled it off, coming home less than two minutes shy of stage winner Quintanilla. However, the Argentine Monster Energy Honda Team climbed the overall leader board from seventh to fourth place, eating one minute into the overall leader's time.
Californian Ricky Brabec dropped a little time today trying to validate an awkward waypoint, which saw him concede the privileged position of overall race leader, although the American remains just four minutes adrift of the top spot.
Nacho Cornejo, who moved up to second place after race authorities returned the time that he had spent assisting fallen rider Paulo Gonçalves in stage five, ended up opening the way for several kilometres. As a consequence of this disadvantageous position the Chilean dropped time but managed to keep pace with his adversaries.
Today, Monday, sees the first of the looping stages which this edition of the Dakar will feature. Riders can look forward to the highest proportion of kilometres of special stage out of the total of 387 to be completed. The hundred participants still surviving will face 323 kilometres of special. The stage will have some complicated navigation and will play out over broken ground, as the area has already seen the vehicles pass over it on previous days.