The Dakar Rally reached the halfway point with the dispute of the fifth stage on Friday Jan 11th. The second part of the marathon stage proved to be a particularly tactical affair with riders seeking to secure favourable attacking positions for the coming days. Ricky Brabec still holds the top spot in the general standings and Benavides is well-positioned to tackle the second part of the rally.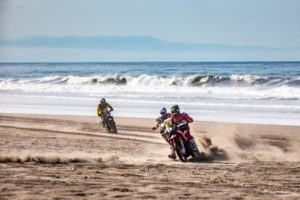 American Ricky Brabec arrives at the rest day of the Dakar in Arequipa, as race leader. Today the Monster Energy Honda Team rider handled the stage with intelligence after having taken command at the top of the general rankings yesterday.
The start of this fifth stage commenced after a 161-kilometre link section from the Moquegua camp and featured a mass line start with waves of ten riders starting together. The latter part of the special saw competitors face the dunes of Illo with 65% off-piste before a further 345 kilometres of timed special.
Monster Energy Honda Team riders performed well on a stage whose objective was to secure optimal start positions for the following stage rather than an outright stage win. The rest day arrives tomorrow in Arequipa with Ricky Brabec and Kevin Benavides lying in tenth and eleventh places respectively. Both riders finished just 6'46" seconds behind the winner of the special.
Ricky Brabec holds the first position of the rally, with 16:51'34 and Kevin Benavides is nine minutes behind in the sixth place.
Nacho Cornejo finished in seventeenth place, 13'10 seconds adrift of the leader. The Chilean rider stopped to attend Paulo Gonçalves, who had fallen at the kilometre 155 of the special sustaining a damaged right wrist. Gonçalves, with twelve Dakar participations under his belt, was forced to retire from the race.
Tomorrow in Arequipa, the riders can savour a well-earned day of rest. The action restarts on Sunday with a stage that takes the entourage back to San Juan de Marcona.