The brutality of the Dakar Rally today showed its most bitter face to Monster Energy Honda Team as Ricky Brabec was forced out on stage eight. Nacho Cornejo opened the track throughout almost the entire special and Benavides got delayed with navigational instrument issues.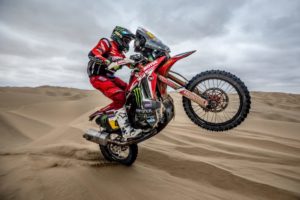 It was an endless, troublesome day for the Monster Energy Honda Team riders who suffered the harshness of the Dakar Rally, particularly for Ricky Brabec, who was forced to abandon the race while still holding top spot in the general standings. "It was a shame, but I will go away happy with the good pace that I have set in this Dakar. I will return with even more motivation next year," stated the American as he arrived back at the Pisco bivouac.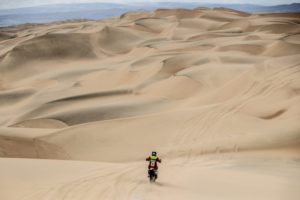 The eighth stage, the 'Super-Ica', got underway yesterday morning with a mixed car and bike start which saw Nacho Cornejo and Ricky Brabec head out onto an open track with the pair both intent on obtaining crucial results in the special. Nacho was forced to open the way given that Sunderland claimed to have a bike issue and consequently started later. The Chilean was thus lumbered with the weight of opening throughout almost the whole day. Only towards the end was he briefly passed over a couple of kilometres by the car of Peterhansel who eventually got stuck in the dunes. Despite the handicap Cornejo performed valiantly on a high-speed, error-free ride to wrap up the day with the eighth fastest time.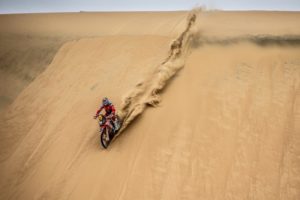 Meanwhile Kevin Benavides had to endure a problem with the navigation equipment during the 361-kilometre special, which delayed the rider considerably. The Argentine Monster Energy Honda Team is sixth in the race overall.
Today Wednesday sees the penultimate stage of this 2019 Dakar Rally which will once again be held on a looping circuit, this time from Pisco. There race will include 313 kilometres of timed special stage out of a total of 410 kilometres on the day.