Chilean rider Nacho Cornejo climbed to sixth place in the general rankings of the 2019 Dakar Rally in the ninth and penultimate stage.
Day nine of the 2019 Dakar took place in the area around Pisco, once again with a motocross-style mass start with riders setting off in waves of ten. 90% of the route was off-piste with half the special in the dunes and the second half of the 313-kilometre stage battled out over harder terrain.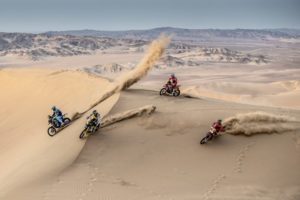 Monster Energy Honda Team's top rider proved to be Nacho Cornejo. The Chilean got off to a swift, yet cautious start, but was able to push hard in the dunes, producing a performance that ranked among the best times of the day. Nacho's sixth place on the stage meant the rider moves up to sixth overall.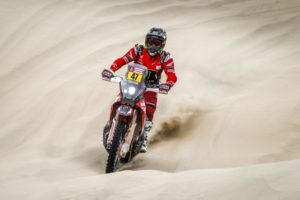 Kevin Benavides came out guns blazing and opened the track for much of the special. A hard-to-locate waypoint caused the first wave of riders to reach the leading group and narrow the times down even further. Benavides eventually posted twelfth, 4'14" behind the stage winner.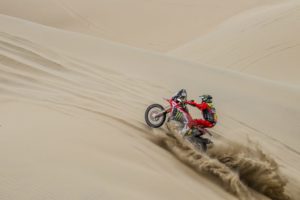 The final stage of the 2019 Dakar takes place today, Thursday and will include a timed special stage of 112 kilometres. Riders will then have to complete a liaison section that will bring them to the Magdalena beach in Lima, where the rally concludes.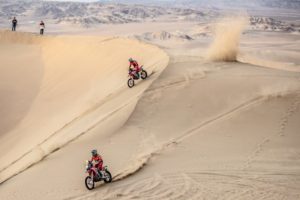 SANCTION TO KEVIN BENAVIDES
Kevin Benavides was sanctioned yesterday with a 3:00'00 penalty after race authorities deemed that the rider had violated one of the new rules established for the race. The team is currently gathering all the necessary information to present an official claim against the sanction.
Source: HRC News