Honda Marine is renowned for it's quality and reliability when out on the open water.
We've got Honda outboards as large as 250hp, but today we are all talk about the small but mighty outboards available at the lower end of the spectrum.
The Honda BF4, BF5 and BF6 are the newest kids on the block. Released in 2017 they are all compact, portable and easy to use. They joined the BF2.3hp to kick off the Honda Marine range with plenty of power.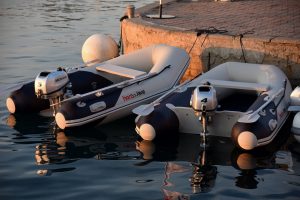 The range are all 4-stroke,  1 cylinder and come in 2 different options – long or short shaft. Opt for short shaft and the length will be 434mm, while long will give you an extra 127mm, coming in at 561mm. The 4/5/6 all weigh in at 27.0 – 27.5kg, depending on whether you need long or short shaft.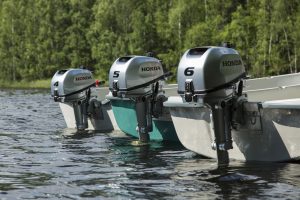 Some of the best features about the smaller Honda outboards are:
Easy to transport & store – take them off the boat when you're finished, eliminating theft and enabling you to keep your Honda in safe hands.
Extended running time – They have a large internal fuel tank, allowing you to hit the open water for longer.
Easy start – they are fitted with Honda's decompression mechanism, which means you're not straining or struggling starting your outboard.
Low vibration – very important when you're out on the water! The low vibration allows for the smoothest journey possible.
Oil Alert – an inbuilt oil alert gives you warning when there is any drop in oil pressure.
Keep those batterys charged – the range will charge batteries up to 6A, perfect for all your portable electronics.
No collecting weeds or sea flora – to prevent damage to the propeller you can tilt the shaft forward when in shallow water, there's a spring lock to keep it in place as long as you need.
Plenty of punch – 127 cm³ engine that not only provides efficient acceleration, but still supplies high levels of torque.
Distinctive Honda Silver – the engines comes in Honda's trademark silver colour, reflecting the sunsets you're bound to see when out on the ocean.
They're made to be a perfect fit for our Honwave inflatable range.
For more on this group of Honda outboards click here & to find your local Honda Marine dealer click here.