Our product spotlight for this week is the HF2417HME ride-on lawnmower. This super reliable ride-on is our most popular model in the lawn tractor range, and it's no wonder!
This bad boy is equipped with variable hydro static drive, and our unique Honda Versamow selective mulching. This allows you have super smooth control and with the use of a single lever, either create a natural fertiliser for your lawn or collect your cuttings neatly. The grass bag has plenty of room for the cuttings too, with a capacity of 300 litres.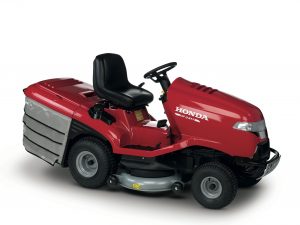 The deck is 102cm, and gives you adjustable cut height options ranging from 30cm – 70cm,  ensuring you get the grass cut the way you like it!
As well as Versamow, the 2417 also has Honda Optiflow, our patented technology allowing you to get more ground covered before you have to empty that 300L capacity grass bag.
The HF2147 is powered by our pro spec GCV 530 engine, brought on the market from our years of reseach for cars and motorcycles.  The GCV has cast iron cylinder sleeves and crankshaft bearings for longer life, along with a larger air filter for improved performance. It's the best 4-stroke you can ride.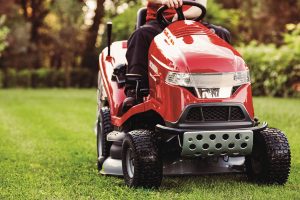 The machine has synchronous blades, combined the synchronised timing belt, it allows the blades to spin together constantly at a 90˚ opposed angle, providing a smooth and effective cut and collection. The 2417 also has our Roto-stop system which allows you to stop the blades, without turning the engine off. Perfect when you need to hop on and off the machine quickly.
Equipped with a comfortable, padded seat you won't get any aches after using this machine in your garden, pitch or field.
The HF2417 is priced at €4,599.00 and is available in your local Lawn and Garden Dealer
For more information click here