Premium Lawn Tractor
HF2417 HME
102cm cutter deck, Pro Spec Honda GCV 530 engine with variable Hydrostatic Drive and Versamow™ selective mulching.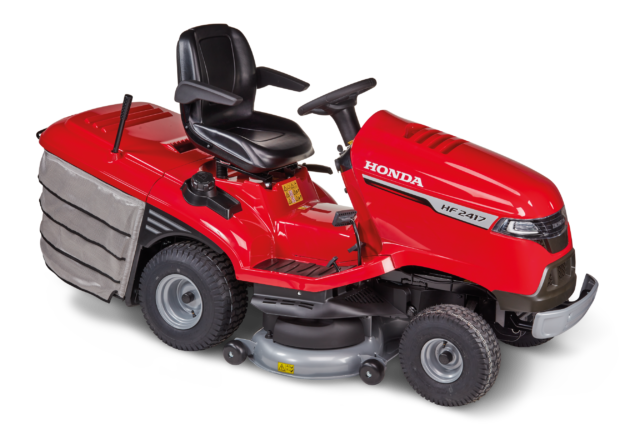 At a Glance:
With outstanding V-Twin engines, Versamow™ selective mulching, and tough bumper protection, our Premium ride-on mowers are built to last and take on any lawn.
102cm cutter deck, Pro Spec Honda GCV 530 engine with variable Hydrostatic Drive and Versamow™ selective mulching.
Make a small job of a large lawn
The Honda Premium lawn tractor is the best garden machinery you can own. Cutting, mulching and collecting leaves on a large lawn, parkland or sports ground couldn't be easier. In fact, they're so comfortable, you won't want to get off!
View Gallery
Smooth control
Available with hydrostatic transmission controlled by a single pedal and offering step-less control.
Optiflow grass collection system
Honda R&D team has developed Optiflow, an advanced grass collection system which reduces power loss and the acumilation of dust by combining powerful suction and a constant flow of air, to completely fill the grass bag.
Versamow™ selective mulching
The HF2417 has Honda's Versamow™ selective mulching. With a single lever, the machine will either collect grass cutting into the bag or finely shred and blow them into the lawn for a natural fertiliser.
Synchronous blades
The HF2417 is fitted with a timing belt that maintains a synchronised 90° angle between the blades – the result; improved cutting with less uncut areas (even when turning), a smoother ride due to the reduction of vibrations and an optomised air flow, improving grass collection and mulching.
Roto-stop® blade stop system
All our ride-on mowers include the Roto-stop® system (controlled via the yellow button), which allows you to stop the blades quickly and safely, without having to turn the engine off. Ideal when you need to empty the grass bag, clear debris, or traverse paths and driveways.
Built to last
All of our Premium range come with with a cast iron front axle and bumper, ensuring solid performance in the most toughest conditions.
Clear control panel
All our Premium lawn tractors are fitted with a clear and user-friendly control panel, displaying the information you need to keep mowing.
Whatever the grass condition, they'll give you the result you're looking for. And a big smile when the job's done. These lawn tractors are a collection of simple, innovative engineering ideas. But that's not the only thing that makes them different and unquestionably the best.
You'll notice the difference as soon as you see the shiny red body finish. The way the panels fit, the seat material, the firm steering wheel and the way the hand controls feel in your hands – in fact, you might not be able to keep your hands off them. Built around a strong chassis, with a sturdy cast iron front axle and a strong low-maintenance V-twin engine, these machines have many other features that prove why a Honda is an excellent choice.
Better arrangement for cutting
Honda renowned ingenuity has developed a blade arrangement using the synchronous method. With the synchronised timing belt, it allows the blades to spin together constantly at a 90˚ opposed angle, providing a smooth and effective cut and collection. With a Honda Premium Lawn tractor you'll get much better cutting and mulching performance with this type of blade configuration. All you have to do is drive…The blades have seven different height settings from 30cm to 70cm, and working inside one cutter deck, provide a much better airflow for gathering up the cuttings. This is essential for maintaining the high levels of collecting performance and at the same time, dramatically reducing any risk of clogging.
We've brought what we've learned on the road into your garden. Years of research from our motorcycle and car engines is applied to our Premium lawn tractors, producing the best possible engines for lawn care and management.
Our Premium lawn tractor engines have a decompression system that makes the engine easier to turn over from start up. The 'Pro' spec engine has cast iron cylinder sleeves and crankshaft bearings for longer life, along with a larger air filter for improved performance. It's the best 4-stroke you can ride. They're both economical on fuel and have the lowest emissions in the industry.
Look after your Premium lawn tractor and it'll look after your lawn for longer.
Inside the cutter deck is where all the hard work is done. It can sometimes be dirty work too – it's a harsh environment. To protect this part of the machine a special anti-corrosive treatment is applied to the deck and then painted for a smooth finish. This magic formula provides a double protection from rust and will keep your tractor looking good, for a long time.
When you've finished it's always good to clean up inside and to make it easier for you, Honda added a very handy hosepipe-to-hose nozzle attachment. All you have to do is hook up your hosepipe, turn on the water, and with the engine running and the blades engaged, the spinning action will wash out any debris that wants to stick to the underside – easy.
Function
| | |
| --- | --- |
| Blade brake clutch | Electromagnetic |
| Optiflow | Yes |
| Grass bag dumping | Manual |
| Positions and cutting | 7 |
| Noise value - sound power level (dB(A)) | 100 |
| Mulching | Versamow™ selective mulching |
| Rear deflector | Optional |
| Tow hitch | Optional |
Dimensions
| | |
| --- | --- |
| Length (mm) | 2445 |
| Width (mm) | 1060 |
| Height (mm) | 1230 |
| Dry weight (kg) | 239 |
Cutting
| | |
| --- | --- |
| Cutter deck size (cm) | 102 |
| Number of blades | 2 |
| Synchro or Asynchro | Synchro |
| height adjustment (mm) | 29-90 |
| Grass bag capacity (Litres) | 300 |
Engine
| | |
| --- | --- |
| Engine | 4-stroke OHC V-twin |
| Engine displacement (cc) | 530 |
| Engine model | GCV530 |
| Engine Rated Power (kW/rpm) | 9.4/2,800 |
| Fuel tank capacity (Litres) | 8.5 |
| Engine oil capacity (Litres) | 1.3 |
| Transmission type | Variable: Hydrostatic |
| Driving speed (km/h) | Progressive 0 to 8.2 |
Tyres
| | |
| --- | --- |
| Front tyres (diameter x width - rim) (inches) | 15 x 6.00 - 6 |
| Rear tyres (diameter x width - rim) (inches) | 18 x 8.50 - 8 |
| Turning radius (m) | 1.8 |
If you're looking to purchase any of these products your local dealer would love to hear from you. Visit our dealer locator below to find your closest dealership.
Search Dealers