The long awaited Honda CRF450L will arrive to Ireland this September.
Honda had a desire to produce a dual-purpose bike that draws strongly on the fundamental performance of a race machine CRF450R, yet with much more 'normal' service intervals and high-quality road ancillaries, has taken its CRF450R moto-crosser as the base to start from, and created the new CRF450L.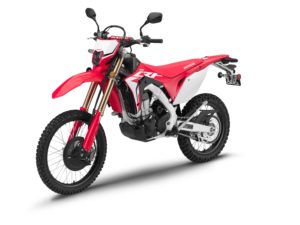 It is unmistakably a race-bred CRF – and looks it – but with the additions and modifications needed to make it both road legal and supremely useable in a trail environment. As such, the CRF450L is a complete package, as happy roosting trails as it is linking them up on-road. And with Honda engineering and build quality at its core, is sure to do so for years to come.
The journey from full race to road legal trail was a detailed one for the CRF450L. Road legality required the engine to gain EURO4 compliance, while from a longevity and usability viewpoint, the power output and character, needed careful attention.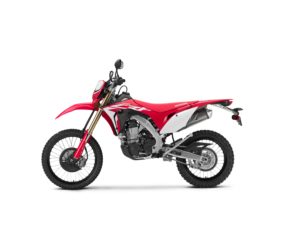 It's still a CRF450R; just one that's quieter, both mechanically from the chassis and engine, as well as its new exhaust. Both fuelling and ignition maps are now managed by 02 lambda sensor; compression ratio has been lowered and crank mass increased for improved drivability. The gearbox is a 6-speed – for longer legs on the road – and a cush drive has been added to the 18-inch rear wheel.
The plastics are lifted directly from the CRF450R and all lighting is LED, with the front headlight in particular throwing out a penetrating beam. Increased volume for the titanium fuel tank adds range and all the items that make the CRF450L ready to purchase as a licensed, road going machine – such as speedometer and horn – are present as standard.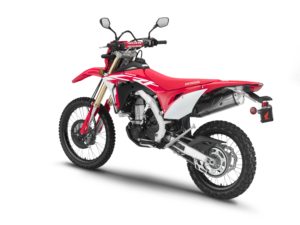 Features:
Based on the CRF450R, with first major service at 32,000km
EURO4 compliant, with electric start
Greater crank inertia improves drivability and feel for traction
6-speed gearbox
Drawn from the 18YM CRF450R, with minor adaptations for its dual purpose role
Full LED lighting, increased fuel tank volume and sidestand
Larger radiator volume, plus electric fan
Styling closely mirrors that of CRF450R
The CRF450L will arrive to Irish dealerships in September 2018. Keep an eye out for updates on it's arrival and pricepoint.