We're now offering 0% finance on selected Honda Quads
You can now avail of 0% finance on the Honda TRX500FM6, TRX500FE2 and  TRX500FA6, which also have €2000 off their RRP at the moment!
The Honda TRX500FM6 was €11,199 and is now €9,199
The Honda TRX500FE2 was €11,699 and is now €9,699
The Honda TRX500FA6 was €12,199 and is now €10,199
To avail of these savings you can call any of our Honda ATV Dealers on their details below: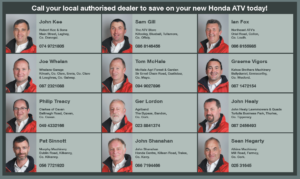 Terms and conditions: 
Finance for business purposes only. Subject to credit approval and AML checks. Applicants must be 18 and over. Available on new equipment only. The 0% Rate is subject to 20% equity on a 3 + 21 monthly repayment profile. Separate documentation fee (€150) applies. Other repayment options available on request. The finance product offered under this promotion is Hire Purchase. Terms and conditions apply. Finance provided by DLL Leasing DAC trading as DLL. Registered office: George's Dock House, IFSC, Dublin 1. Registered Ireland 392788. Phone: 01 4814192. €2,000 discount is available on the Honda TRX500FM6, TRX500FE2 & TRX500FA6 models only. No other ATV models available from Honda are included in this promotion and are only available at their regular retail prices. See www.hondaireland.ie for all model details. Offer is available while stocks last only. Honda Ireland reserves the right to withdraw the offer at any time. Images are for illustrative purposes only. Offer expires when stocks are no longer available at participating Honda ATV dealerships nationwide. For the full list of Honda Authorised ATV Dealerships please click here.