Honda is now one of the most recgonisable brands worldwide. And we're proud to be flying the Honda flag here in Ireland, but how did the company become so famous?
Let have a look at how Honda went from bicycles to jets, in ony 70 years:
Early Years:
1906: Soichiro Honda is born. Born a blacksmith's son in a small village near Mount Fuji, Soichiro Honda is fascinated by machines and helps out in his father's bicycle repair business.
1922: Soichiro Honda leaves school and heads to Tokyo where he is apprenticed as a trainee mechanic. After six years, he returns home and opens his own garage.
1937: Honda's first company – Tokai Seiki is founded by Soichiro to produce piston rings. It grows, but suffers the double whammy of a wartime bombing raid and a devastating earthquake in quick succession. The shattered remnants of the business are sold and with the proceeds a new company is founded: Honda Technical Research Institute.
1947: Honda Type A – The original motor-bicycle is developed further. It is clever, stylish and popular. Within months, the Honda-designed motor is being built on its first conveyor line.
1948: Honda Motor Company is born. Soichiro Honda takes on a business partner, Takeo Fujisawa, and together they create a new company. Socihiro will be the product developer and Fujisawa-san brings the necessary business nous. The company has 34 employees but one shared dream.
1949: The first new Honda. The first motorcycle fully designed and developed by Honda from the ground-up is, fittingly, called the 'Dream' D-type.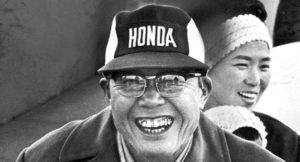 The 1950's – Going global fast:
1955: Reaching number 1 – Honda becomes the biggest motorcycle brand in Japan. Today, it is the biggest motorcycle brand in the world with production facilities all over the globe.
1956: Think global, act local. The guiding ideals that still shape Honda to this day are formed. The company principle is enshrined: "Maintaining a global viewpoint, we are dedicated to supplying products of the highest quality yet at a reasonable price for worldwide customer satisfaction."
1958: A Super-star is born. The Honda Super Cub is a simple, affordable motorcycle for the world. More than simply super by name, its direct descendent remains in production today. Bringing affordable mobility to the masses, it's the best-selling motorised transport ever. Maybe also the most significant?
1959: The American dream – The world's biggest motorcycle brand begins sales overseas for the first time, in the USA. American Honda Motor Co. Inc. is established in Los Angeles.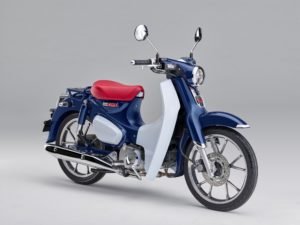 The 1960's – dreams lead to winning:
1960: Researching the dream – A dedicated Honda R&D company is created as a sister company to the Honda Motor Co. Ltd. You might call it Soichiro's dream factory.
1961: TT triumphs – Soichiro said success is 99 percent failure. Our debut at the Isle of Man TT races is a disappointment, but we don't give up. Two years later, we return, and dominate. It's our first taste of international racing success, and far from our last: by 1965, we're winning in F1 Grand Prix racing too.
1962: Global production – Flush with TT motorbike success, we open our first overseas production facility at Aalst, Belgium, to meet growing demand for our motorcycles. We have been building in Europe longer than you think.
1963: From two wheels to four – Honda begins selling cars and commercial vehicles. The tough T360 mini-truck is admired. The deft S500 sports car is swooned over.
1964: Honda's racing ambition – Only one year after becoming a car manufacturer, Honda takes the audacious step of entering the motor racing arena. The decision to make our own chassis and engine is soon rewarded and in 1965, in Mexico, Richie Ginther takes us to our maiden victory.
1967: The tiny Honda miracle – So cute, so clever. The N360 city car, with its sweet-revving air-cooled engine, begins Honda's passenger car success story.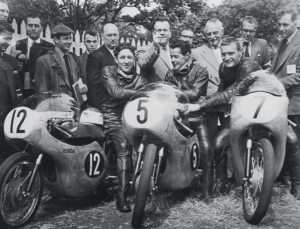 The 1970's – Keeping busy, very busy:
1972: Right car, right time – The compact, front-wheel drive Civic is a car perfect for the 1970s. 10 generations and 24 million sales later, it remains as relevant and popular as ever.
1973: Honda founders retire – Honda co-founders Soichiro Honda and Takeo Fujisawa retire after 25 years' leadership and take up advisory positions on the board of directors. Soichiro would remain an eager observer of his company until his passing in 1991.
1975: No smoking please – We launched the amazing CVCC engine in North America. Its combustion cycle is so efficient that it exceeds the tough, new clean-air regulations without the need for an exhaust catalyser. It's a sensation.
1976: Growing up- Honda's first medium-sized car, the Accord, is revealed. It's offered initially as a four-door saloon and three-door hatchback. Later, a five-door hatchback would follow, along with a coupe version, which we call the Prelude.
1979: Building bridges – Honda commences a fruitful 15 year partnership with BL to share technology, co-develop and build cars in Europe. Other collaborations have followed, although we remain fiercely proud of our independent spirit and 'no compromise' original thinking.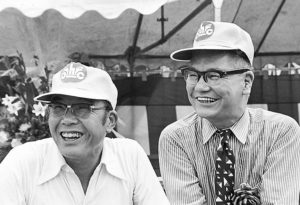 The 1980's – going high tech:
1981: On the map – Did you know it was Honda that invented the world's first map-based car navigation system? The Honda Electro Gyrocator is offered on Japanese-market Accords, more than a decade before GPS sat nav systems were introduced.
1982: Living in America – Honda began producing motorcycles in the USA in 1979. In 1982, it becomes the first Japanese brand to produce cars in the US. The Ohio factory is later joined by plants in Canada and Mexico. Today the Ohio plant has now passed it's 20 million vehicle mark.
1986: Legend-ary – The first Honda luxury car is launched – along with, in the USA, a new brand to sell it under: Acura. This makes Honda the first Japanese car company to launch a standalone premium division.
1988: A Honda F1 masterclass – Never before or since has anyone dominated an F1 season like this. The McLaren-Hondas win 15 out of 16 races, the team takes the Constructors' Championship, Ayrton Senna is 1988 F1 World Champion and his team-mate Alain Prost is runner-up. Why not 16 out of 16? Well, nobody's perfect…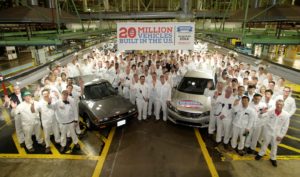 The 1990's – a decade of icons:
1992: Built in Europe – Two new Honda factories in Europe open for business. The UK factory in Swindon builds the Accord and a plant in Gebize, Turkey begins production of the Civic. Today, Swindon has become the global home of the five-door Civic hatchback.
1995: Four-wheel strive – An iconic Honda is launched: the CR-V, or Compact Recreational Vehicle. The pioneering compact SUV won instant acclaim and, today, is the world's best-selling SUV. Honda follows it up in 1999 with the smaller HR-V – High-Riding Vehicle.
1998: Happy birthday, Honda – We decide to build ourselves a birthday present, to mark our first half-century. What else could it be, but a two-seat sports car? The high-revving S2000 brings the S500's original roadster spirit right up to date.
1999: Insight into the future – Our engineers are not just focused on the past. The Insight was our first petrol-electric hybrid, a car with unbelievably low CO2. It was another Honda first: the first hybrid car offered for sale in Europe.
The 2000's – Robots & racing: 
2000: ASIMO waves hello – The first ASIMO (Advanced Step in Innovative MObility) humanoid robot appears and becomes one of Honda's most famous celebrities.
2001: R is for racing – The Civic Type R performance hot hatch is launched in Europe. Its reputation quickly grows, and word gets out. It is later exported to enthusiast customers all around the world. Three further generations have followed, with the latest debuting in 2017.
2002: Joining the Jazz club – The clever Jazz supermini is launched. With a fuel tank in the middle, it offers unheralded space efficiency. Ingenious rear Magic Seats exemplify the Honda 'man maximum, machine minimum' philosophy in the most creative way.
2003: Ad-vanced Honda – The Honda 'Cog' TV advert airs in Europe. It becomes one of the most highly regarded advertising films ever. It launches the new Accord which is offered with the i-CTDi engine, Honda's first-ever in-house diesel.7
2006: Honda's hydrogen hero – Honda engineers have long dreamt of a hydrogen-powered future with its promise of no exhaust emissions and no need for recharging. The 2006 FCX Clarity was a landmark new car launch: the fist commercially available hydrogen fuel cell car.
Today – breaking records: 
2014: Riding high – Total global sales of Honda motorcycles and scooters reach the colossal total of 300 million. The big numbers continue: just a year later, we take our 700th Grand Prix win in motorcycle racing.
2015: Honda takes off – Soichiro's ultimate dream is realised: the first production HondaJet takes to the skies. The six-passenger executive jet boasts a range of over 2,200km and, with a top speed of 782km/h, is the fastest Honda ever built.
2016: Motoring milestone – Honda car production hits 100 million. Did Soichiro ever dream so many cars bearing his name would be built?
2017: Advanced and Sporty – Honda reveals the new NSX, a high-tech supercar that, like the original, is ahead of its time. It's a hybrid supercar with a V6 petrol engine and three electric motors. A few months later the NSX is joined by a new Civic Type R; It's so quick and composed, it sets a new benchmark lap time around the challenging Nürburgring Nordschleife circuit in Germany.
2018:  2018 marks 40 years of the Honda Lawnmower on sale and 70 years of the Power of Dreams.  Honda is 70. It's been quite a story so far. Where will the next seven decades take us?
Credit: World of Honda UK. Images: Google images.