Monster Energy Honda Team's American rider Ricky Brabec staged an authentic coup d'état at the fourth stage of the Dakar Rally, not only battling to victory on the day, but also storming the first place spot on the overall leader board. Benavides and Gonçalves were among the top ten.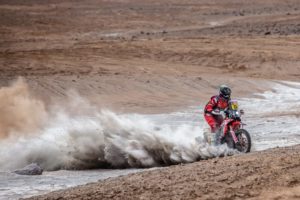 Today saw the first leg of the marathon stage at the 2019 Dakar en route from Arequipa to Moquegua, where the 124 remaining motorcycle riders had an early start to cover the opening 85-kilometre link section before the first part of the 205-kilometre special. The day was soured by biting cold and humidity in both the city and the mountainous regions. Ricky Brabec set off like a bat out of hell, marking the best time in the process. After a neutralization of 54 kilometres, the second part of the special, over 146 kilometres, proved even better for the American, who cruised home with a six-minute advantage over the nearest finisher, dethroning the previous overall leader Pablo Quintanilla with a walloping twenty minute gap. In doing so, Brabec triumphs for the second time in a stage after the victory in 2017 on the La Paz-Uyuni stage. The American takes the head of the overall rankings for the first time in the world's toughest rally.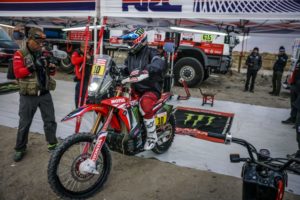 Monster Energy Honda Team buddy Paulo Gonçalves continues to improve in the 2019 edition of the Dakar after a spleen operation just a month ago. The Portuguese rider finished with the sixth fastest time of the day and lies in eighth in the general standings. Kevin Benavides occupied ninth place at the finish, one spot behind team-mate Nacho Cornejo, with the Argentine is sixth place overall.
Riders then travelled to the Moquegua camp where they can rest and prepare the second leg of the marathon stage. The bikers will, however, be left to their own devices as no outside mechanical assistance is permitted. Instead any technical help will have to wait until the close of tomorrow's stage back at the Arequipa bivouac. The fifth stage will add a total of 776 kilometres to the 1109 disputed so far and will include 345 kilometres against the clock.
Source: HRC News