A more-complicated-than-expected third stage of the 2019 Dakar served up a mixed-bag result for Monster Energy Honda Team: Kevin Benavides gave himself a birthday present by climbing the leader board to second overall spot on the same day that team-mate Joan Barreda was forced to abandon the race.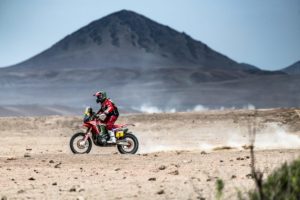 It was double congratulations for Kevin Benavides who was wished happy returns as he headed out from the San Juan de Marcona bivouac on his birthday this morning and again after an excellent stage performance by Argentinean rider when he arrived back. Monster Energy Honda Team's Benavides had been in the running for the stage victory, but had to settle for third place on the day, 2'37 behind the stage winner. Benavides thus moves up the general rankings to find himself rubbing shoulders with rally's top guns.
The agenda of the day saw riders set out from the bivouac at San Juan de Marcona to start the first special of the day five kilometres later. The timed section concluded some 264 kilometres later followed by a short two-kilometre liaison section which brought the riders to a second 65-kilometre special. Before arriving back at the camp in Arequipa, it was back in the saddle for a 461-kilometre jaunt to take the mileage to a whopping 800 kilometres.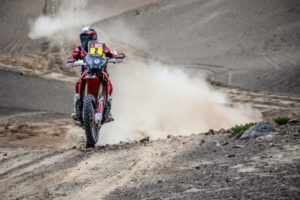 It proved to be a tough physical test for Paulo Gonçalves who held a swift pace to place a fine sixth on the day. Brabec suffered the setback of being forced to open the track which led to a twelfth place finish.
In stark contrast to Benavides' excellent stage, Joan Barreda had to make a premature exit from the 2019 Dakar. The Spaniard came across a low visibility foggy and rocky area whilst opening the track, lost control of the bike which went into a slide down a ravine which it proved impossible to escape from. Barreda's Dakar had ended at kilometre 143. The rider from Castellón's final score-sheet reads: one stage victory on the opening day, taking the Dakar stage victory tally to 23 and two days at the head of the overall rankings.
Today brings the first leg of the marathon stage. Competitors can look forward to 352 kilometres of special out of a total route of 511 km before the entourage makes it back to the camp in Moquegua, where riders will be left without the possibility of outside mechanical assistance unless it be from fellow team-mates. For assistance riders will have to wait until the bivouac in Arequipa.