Brand new for 2019 Honda welcomes an updated HRX series.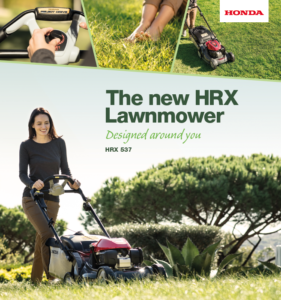 Updates include:
New engines offer improved efficiency and easier starting
Honda's premium HRX lawn mower range has been updated with new engines and additional features to increase user convenience.
The latest 4-stroke engines provide class-leading power and torque and an enhanced combustion
process improves fuel efficiency, reducing environmental impact and running costs, and ensuring
easy starting even after winter storage.
Automatic choke is standard with accurate temperature sensing for even better trouble-free starting
than before, whether hot or cold.
User servicing is improved including tool-free air filter replacement and a more accessible spark plug,
plus easier oil filling and draining. The petrol tank filler cap is more than twice as large as on previous
models, making it easier to refuel.
HRX537 53cm wheel-driven mowers gain additional power and efficiency as a brand new GCV200
engine replaces the previous GCV190 power unit. Models include the HRX537VYE, HRX537HYE and the HRX537HZE with electric start.
Honda's premium HRX mower range are all powered by dependable, clean and efficient 4-stroke petrol engines. Versions include push or self-propelled, wheel or roller drive, and user-friendly features available include electric start, Roto-stop blade clutch, single or variable speed and Versamow – allowing selectable mulching, collecting or a combination of both.
All the updated models are easily recognised by new HRX family styling, which is attractive and
practical and provides easy access for cleaning and maintenance by users and dealers.
Find out more on Honda's Lawn and Garden machinery range or your local Authorised dealer.