You can now save €100 on the Honda IZY Lawnmower range
Until stocks last we have €100 off the HRG466SKEP, HRG536VYE and HRG536VLE!
The Honda IZY range is renowned for it's easy start, low maintenance and reliability.
They are hard wearing, maneuverable, easy to drive with some models have fixed or variable transmission, adjustments to cutting height and selective mulching capabilities. They come with the Honda 24 month warranty for your peace of mind.
Save today on the Honda IZY range!
Available in your local Honda authorised dealership, click here to get full driving directions to your local dealership.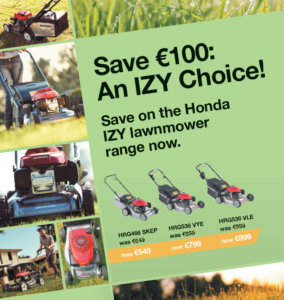 View the full dealer network below to know your local Honda Authorised dealership.