If you've ever looked into our Honda Ride on Lawnmowers, you might have read about or heard of Honda Optiflow. The Optiflow system is unique to Honda and one of the major benefits of buying a Honda Ride on Lawnmower.
Our Research and Development team has developed Honda Optiflow, a system that combines powerful suction with controlled and low turbulence air flow that reduces power loss, noise and grass accumulation.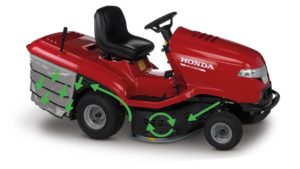 From the air intake 1), through the cutter deck 2), to the grass ejection 3), and to the basket 4), the air flow is powerful and constant enough to completely fill the grass bag whilst minimizing dust.
What does it mean for you? It means you're going to get more ground covered & cut your lawn for longer before you have to empty the bag. You'll have a quieter cutting experience and and a reduction in dust levels.
The Honda Optiflow system is available on the Honda HF2315, HF2417 and HF2622, you can purchase any of these lawn and Garden machines from our Irish Honda Dealer Network.