Dani Pedrosa completed his racing career in Valencia, scoring a fifth-place finish in incredibly tricky weather conditions that caused the crashes of nine riders—2018 World Champion Marc Marquez among them—and prompted Race Direction to interrupt the first race on lap 13 and re-start a new one half an hour later.
Marc suffered a crash from third place at Turn 9 on lap seven and was therefore unable to take part in the second stint. Dani restarted from fourth in the 14-lap second race and closed fifth, bringing to 46 points the final advantage with which the Repsol Honda Team secured the Team Championship, thereby earning back-to-back MotoGP Triple Crowns, having already achieved the Riders Title in Japan and the Constructors Title in Malaysia. He commented:
"For sure I had a particular feeling before today's race, knowing that the moment of my final race had arrived. Well, actually it turned out that I had two! Unfortunately the weather was really tricky. In both races, I struggled so much with the rear and couldn't really get on the gas. I was actually expecting to have a better feeling in the second race, as there was less water on the track. But we changed the tyres and I had no grip, so I could only try and finish the race with no crashes. It's a bit of a shame, but when I got back to the pits, I found everybody waiting for me—the team, my family, my people—and there was a very emotional atmosphere. I was pleased to see their emotion. It meant a lot to me. Now I'll have several events to attend, but after that I'll try and have some time to myself and relax a bit before next year."
Dani ends a highly successful 18-year GP career, all of it as a Honda rider, having achieved three World Titles (125 in 2003, 250 in 2004 and 2005) 49 poles, 54 wins, 153 podiums and 64 fastest laps out of 295 starts.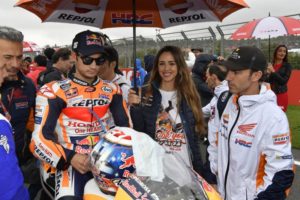 After celebrating at the FIM MotoGP Awards ceremony on Sunday evening, the Repsol Honda Team will start 2019 winter test season on Tuesday, with a two-day test.
Source: HRC News