Ricky Brabec and Joan Barreda both posted final positions that would see them on the rostrum as day two of the 2019 Dakar Rally concluded with the pair in second and third places. In the overall standings, Monster Energy Honda Team's Spanish component holds the lead.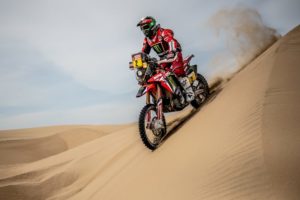 Things are looking up for the Monster Energy Honda Team on a day which saw Ricky Brabec and Joan Barreda in the fray for the stage victory. It didn't turn out that way in the end, but the duo are well-placed in the top three and maintain their hard-fought positions from yesterday.
The stage proved to be a fast one with 90% of the special off-piste and just 20% in the dunes. The mótards started out behind the cars and side-by-sides, but the potential problems that the top riders had expected failed to materialize. All the bikes made it safely back to the bivouac at San Juan de Marcona after a long link section, on a day that had included 342 kilometres of timed special out of a total of 554 km.
Ricky Brabec very nearly stole the stage victory, but the American had to settle for second place, coming home just 22 seconds adrift of the eventual stage winner. Joan Barreda, who opened the special alone, posted third, 1'41" seconds behind Walkner.
All the Monster Energy Honda Team riders keep their positions in the general rankings, such as Kevin Benavides, eighth on the stage who holds the same slot overall. 'Nacho' Cornejo finished tenth and lies ninth in the table while Paulo Gonçalves repeated his eleventh position.
Tomorrow, the third stage of the Dakar will take all the participants to Arequipa where they will contest the longest stage in the opening half of the rally. The day will be made up of 331 kilometres of timed special out of 799 total kilometres which will take the competitors from San Juan de Marcona to Arequipa. Riders are scheduled to arrive at the bivouac around 16:00 hrs local time.
Source: HRC News