The first special of this Dakar was won by a rampant Joan Barreda in Adrenarena de Paracas, near Pisco. But it wasn't just Joan who shone in the Monster Energy Honda Team: Ricky Brabec posted third after an outstanding ride in the dunes with Benavides, Cornejo and Gonçalves occuping notable positions.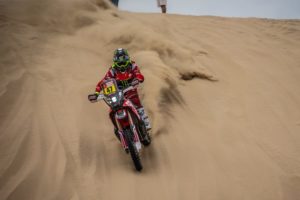 Day one, en route from the Peruvian capital Lima to the bivouac located around the city of Pisco, consisted of a total of 332 kilometres of stage, with only 84 km against the clock was enough to set up the first official race leader board of the 2019 edition of the Dakar Rally. 80% of the route took place in the dunes, on a stage which covered some dried up river beds that were navigationally more demanding. Nevertheless, all the members of the Monster Energy Honda Team riders were able to overcome the hazards successfully.
Temperature soared as the sun beat down onto the dunes of Adrenarena, yet despite this, Joan Barreda was scorching too clocking up a great time of 57'36" to win the stage and become the provisional race leader. Team-mate Ricky Brabec set the third fastest time 2'52" behind the Spanish rider. Kevin Benavides hampered with the task of being the first of the elite riders to open the track, was ahead for much of the day but the Argentinean ended up with the eighth fastest time on the day, one place ahead of Chilean Jose Ignacio Cornejo, ninth some 5 '22 adrift of Barreda. Paulo Gonçalves finished eleventh 6'41" behind the Dakar's first leader.
Today, Tuesday, will be one of the most unique stages of this Dakar 2019, as Joan Barreda will not be the first to open the race. That job will go to the cars who will start out before. When the bikes get their turn, they can look forward to a heavily churned up and rutted route after the passage of more than one hundred four-wheeled vehicles. After departing in Pisco, riders will head to the next bivouac in San Juan de Marcona after battling out the largest part of the stage in the dunes of Ica on a ride with a total of 554 kilometres including 342 special timed.
Source: HRC News