2018 is a big year! We are celebrating 40 years of the Honda lawnmower! Since 1978 we've been manufacturing the best name on grass.
The HR21, Honda's first walk-behind lawn mower, was launched in August 1978 in overseas markets including the U.S. The high-quality lawn mower equipped with a vertical engine, which ensured quiet operation and significantly easier starting, received rave reviews for its outstanding performance, safety and durability. Sales were strong from the start, growing steadily to the point that in 1985, when sister models were introduced,
Today, in 2018 the Honda lawnmower range in Ireland has over 16 models available, with a wide range deck sizes, engine power and features. The range boasts reliable performance, low engine noise, easy starts and excellent after-sales service.
To celebrate this momentous year in the Honda Lawnmower range we're giving you €100 off the Honda IZY range!
The Honda HRG536VYE was €899, and is now €799! 
The Honda HRG536VLE was €999, and is now €899!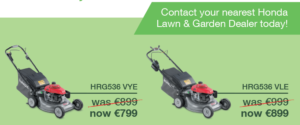 Discounts are available until August 31st 2018, and can be availed of in your local Honda Lawn and Garden Dealership.