The excitement levels are high here in Honda HQ – the 2019 Honda CRF450L is set to arrive to Irish shores in October!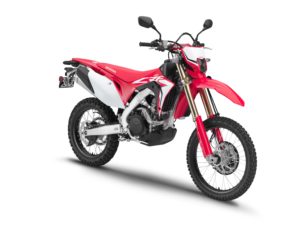 It is unmistakably a race-bred CRF – and looks it – but with the additions and modifications needed to make it both road legal and supremely useable in a trail environment. The CRF450L is a complete package, as happy roosting trails as it is linking them up on-road. And with Honda engineering and build quality at its core, is sure to do so for years to come.
A true dual-purpose motorcycle should be many things; off-road it needs to be light weight, with quality suspension and handling ability that keeps life easy as the going gets harder. Its engine has to make good power and torque from the bottom up – the sort that is supremely usable, allowing the rider to find all the rear wheel grip possible, whatever the terrain.
All the attributes that make it great fun off-road also enable it to be really useful around town; narrow and nimble, a dual-purpose machine slips through gaps, soaks up the hits from rough roads and stays well ahead of traffic thanks to smart, low-gear acceleration. It also needs to be turn-key reliable, with sensible intervals between major service work.
This much anticipated model will arrive to Ireland in October 2018 and will be available from your local Honda Motorcycle Dealership. Prices are currently not confirmed.