It was an outstanding performance on track today from Ricky Brabec, José Ignacio Cornejo, Kevin Benavides and Joan Barreda on the looping circuit in Neom on stage three of the 2020 Dakar Rally. Monster Energy Honda Team riders currently occupy the top five positions in the general standings.
The Super Marathon stage wrapped up today with Monster Energy Honda Team riders scooping a fine haul of results. The 414-kilometre Neom loop proved to be a rewarding one for the crew who achieved the best stage CP times over the course of a lengthy and arduous special. The stage took place amid slippery gravel-filled mountain tracks connected by a breakneck high-speed section of off-piste racing through a valley. The navigation proved particularly taxing, but Brabec, Cornejo and Benavides were up to the task, giving Honda a podium lock-out at the end of the stage.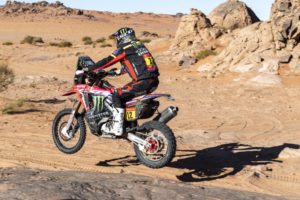 Earlier this morning, riders once again received the ready-to-use roadbooks just minutes before the race-start, but this was no impediment to Ricky Brabec, as the American Monster Energy Honda Team rider let rip on the Honda CRF450 RALLY registering the best times at the various waypoints of the special before reaching the goal back in Neom. The Californian now leads in the general standings.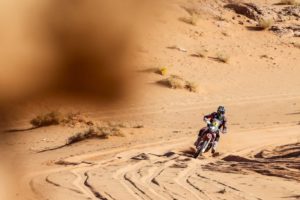 José Ignacio Cornejo was also feeling at ease on this third stage of the rally in Saudi Arabia. Improving his skills as each day goes by, the Chilean made it home with the second best time of the day, less than six minutes behind Ricky Brabec.
Argentinean rider Kevin Benavides climbs positions on the 2020 Dakar overall leader board to second place, just 4'43 shy of his team-mate after a notable showing in the day's tricky special where he took third place on the podium.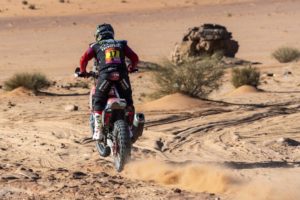 Joan Barreda likewise pushed hard to be among the frontrunners, posting sixth but still keeping his options open to stage an attack. The rider from Castellón holds fourth overall place some eleven minutes behind his team-mate.
Once the riders get back to the bivouac in Neom and have swapped information about the day's event, they will again start work on the roadbook ahead of tomorrow's fourth stage, given that the roll containing all the details of the course will once again be issued to each rider 25 minutes before the race on days five and six.
This is the … Stage 4
Link> 223 km – Special> 453 km – Total> 676 km
On the agenda this day you will find equal parts sandy stretches and gravel sections, mostly on tracks. However, do not confuse speed with precipitation, as the arduous navigation will require some clear choices. History buffs will be keen to get their cameras out as they pass close to Nabatean temples.