The Forza name has long been a powerful force in Honda's two-wheeled line-up. Its history as a premium mid-size scooter goes back to the year 2000: the first model set the template, delivering a lively ride, plenty of storage room and an innovative combined braking system. It was well received throughout Europe, where owners found its multi-role capability useful in every aspect of daily life.
The 2018 Forza 300 has a crisp, sporting new look and much tighter, sharper dimensions than the previous design. Its wheelbase and length are reduced, while it's also narrower, but with a higher seat height for improved visibility. Even with a new larger diameter rear wheel, it is 12kg lighter thanks to a revised chassis and redesigned frame, which boosts acceleration, top speed and fuel efficiency.
Smoothly adjustable, the new electric screen provides maximum wind protection at speed­ or ultimate freedom around town. Honda Selectable Torque Control (HSTC) has been added and can be switched on and off from the left handlebar.
Revised instruments serve up extra information digitally, in support of the analogue dials and all lighting is LED. The Smart Key offers control of the optional 45-litre top box.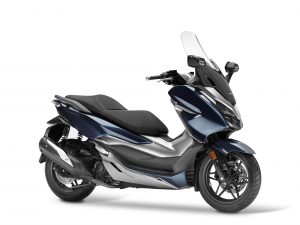 The Forza 300 is not yet available in Ireland. It is anticipated to arrive late Summer/early Autumn 2018. In the meantime check out it's little brother the Honda Forza 125.